Acroprint ProPunch Time Clock System
About the Acroprint ProPunch
The Acroprint ProPunch is a web-based time clock software system that installs on your local Windows PC. Once installed employees can clock in/out from any web browser from within your local network. Employees can also clock in/out from a ProPunch time clock (one FCP18 included).
PropPunch comes with software and a fingerprint biometric time clock that supports 50 employees out of the box. Upgrades are available and allow you to expand the employee capacity and add time clocks based on your needs.
Acroprint ProPunch demo video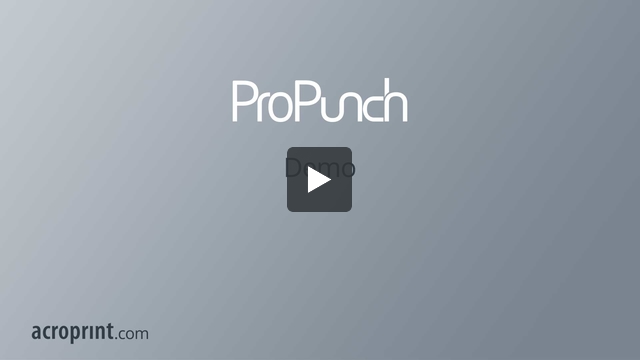 Acroprint ProPunch
Standalone Web-Based Fingerprint Time Clock System
$349.00
Acroprint FCP18
ProPunch Fingerprint/Proximity Time Clock Only
$299.00
Top 5 reasons to consider the Acroprint ProPunch
The price fits your budget
You have less than 50 employees
You want a standalone web-based time clock system
You want employees to clock from a time clock or web browsers
You don't mind paying an annual license/support fee
Acroprint ProPunch system includes
One ProPunch FPC18 fingerprint and proximity time clock
One year license of ProPunch software for 50 employees
One year of free support and hardware replacements
After the first year, pay an annual subscription
Flexible Punching Options
Collect all punches in real time with the ProPunch biometric fingerprint reader for true employee accountability — PIN punching and proximity card punching are also available.
No-Hassle Software
Easy-to-install ProPunch software provides an up-to-date view of essential information, including head counts, time off balances, missed punches and so much more.
Attendance at a Glance
The handy ProPunch™ Dashboard tells you Who's In, Who's Out and which employee timesheets are ready for approval.
Seamless Export to Payroll
Automatically sync employee time with your computer for direct export to most popular payroll software and services.
Adjust the Settings to Meet Your Needs
ProPunch calculates complex rounding rules, pay categories and paid or unpaid lunch and break time according to your own specifications.
Early Detection for Attendance Problems
Detailed and up-to-date reporting about missed, early and late punches allows you to address attendance issues promptly, before they get out of hand.
A Variety of Reports to Choose From
Generate detailed reports summarized by day, employee, clock codes, time off balances, unprocessed punches, early punches and late punches.
Employees Can Watch Their Accruals Grow
Set ProPunch custom rules for sick, holiday and vacation time – you can also make this information available to employees.
Acroprint ProPunch FCP18 specifications
Data input: Fingerprint scanner, proximity badges 125Khz, or keypad
Data transfer options: Ethernet (TCP/IP)
Display: 2.8 TFT True Color 320 v 240 pixes
Language options: English, Spanish, French
User capacity: 3,000
Administrator capacity: 100
Fingerprint template capacity: 3,000
Proximity cards capacity: 3,000
Recommended operating environment: temperature 32°F to 113°F (0°C to 45°C) humidity 20% – 60%
Integrated kickstand or wall mountable